One of my favorite cooking shows is America's Test Kitchen. (I referenced it before in
this post
). For every recipe, they ask the question, what makes this dish GREAT? And then they search for the exact reason of it's greatness. For brownies, the greatness is the chewiness (duh). They did a taste test and more than half the participants chose the boxed brownie over the homemade brownie. Although the homemade brownie had a better chocolate taste, more people chose the chewy goodness box-mix as their favorite. Thus, they came up with the perfect recipe for the perfect homemade brownie. I had to give it a whirl. No better time to do this than when I'm stuck at home after ACL surgery! Fortunately my parents were there to help out. I was dressed for the occasion...I know, I look awesome.
There are a couple of "keys" to these chewy brownies. #1 Fat. It's important to have the right ratio of saturated : unsaturated fat. I'll leave it at that so we don't feel too guilty enjoying these treats. #2 Chocolate. Using different types of chocolate (cocoa, unsweetened and bittersweet) adds a rich and complex taste. Makes my mouth water just thinking about it. #3 Cool it. Let the brownies cool completely before diving in. It's okay to do a little taste test though.
Ingredients
½ cup Dutch-processed cocoa
1½ teaspoons instant espresso powder (optional)
½ cup plus 2 tablespoons boiling water
2 ounces unsweetened chocolate, chopped fine
½ cup plus 2 tablespoons vegetable oil
4 tablespoons (½ stick) unsalted butter, melted
2 large eggs
2 egg yolks
2 teaspoons vanilla extract
2½ cups sugar
1¾ cups all-purpose flour
¾ teaspoon salt
6 ounces bittersweet chocolate cut into ½ inch pieces
A few more notes about this recipe: when it says "½ cup plus 2 tablespoons boiling water", that means you're supposed to measure out ½ cup and then add 2 tablespoons to that (do the same with the oil). That confused me when I first read it, I'm sure you got it though. Boil the water
first
and then measure it out.
Directions
1) Prep your pan. Preheat the oven to 350°. Line a 9x13 inch baking pan with foil and spray lightly with cooking spray.
2) Whisk the cocoa, espresso powder (I used instant coffee), and boiling water in a large bowl until smooth.
3) W-H-I-S-K. Add the unsweetened chocolate and whisk until the chocolate is melted. Whisk in the oil and melted butter. Add the eggs, egg yolks, and vanilla. Continue to whisk until smooth. Whisk in the sugar until fully incorporated. Add the flour and salt and mix with a rubber spatula until combined. Fold in the bittersweet chocolate pieces.
Finely chopped unsweetened chocolate.
Bittersweet chocolate (½ inch pieces)
4) Scrape the batter into the prepared pan and bake until a toothpick inserted halfway between the edge and center comes out with just a few moist crumbles attached, about 30 to 35 minutes.
5) Transfer the pan to a wire rack and cool for 1½ hours (yep, you'll need a heaping scoop of patience for this recipe!) NOTE: If you're using a glass pan, let it sit for 10 minutes to cool and then pull the foil/brownies out of the pan so it won't continue to cook. Then let it cool for another hour and 20 minutes. I made the mistake of leaving them in the ban, which is why I don't have a great "after" picture...shame on me.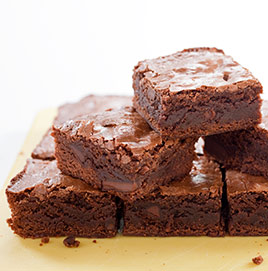 This pictures comes from
this website
, but mine looked similar :-D Right.
Thank you, ATK. I love you.